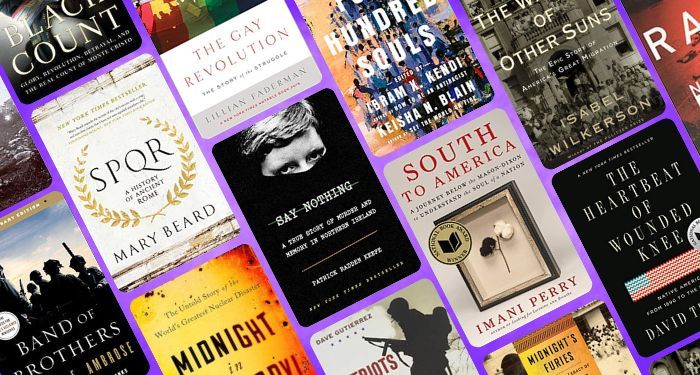 Featured
A Page From History: 24 of the Best History Books of All Time
This content contains affiliate links. When you buy through these links, we may earn an affiliate commission.
Let's just mention these quotes now and get them out of the way: "History is written by the victors," and "Those who cannot remember the past are condemned to repeat it." The first is often attributed to Winston Churchill, but it isn't actually known if he said it first; the second was written by George Santayana in 1905's The Life of Reason. Both overused, both very valid points. History and its tellings are often shaped by the people who had the loudest voices, the biggest guns, the most money. And until the internet came along to help spread the word about, well, everything (good and bad), it was these tellings that we relied on to learn about events. But we now live in an age where all stories can be told. That's why we offer you this list of 24 of the best history books of all time!
History is a BROAD topic. I could start naming different events in history, and still be naming them two weeks later. So this list is just a very small selection of great history books, but they are all excellent and often the winners of awards, and they all cover different events in history. You can find lots of delightful books about microhistories, such as The Pencil: A History of Design and Circumstance by Henry Petroski or Rain: A Natural and Cultural History by Cynthia Barnett. But the books on this list are about long periods of time or events or people, and cover several things that are still relevant to occurrences happening today.
Many of the books on this list are recent-ish publications, because they contain more accurate information. You can find a recent book on pretty much any subject now that sheds new light on the truth about the past, or things that have been omitted from history books, such as the history of the 1921 Tulsa Race Massacre. So shoo, get reading, there is so much to learn!
And if you want to get even more knowledge about history into your brain pan, check out this introduction to U.S. disability history books, 20 of the Best World History Books, Learn Your Historia with These 20 Mexican History Books, 6 of the Best Islamic History Books, and 15 of the Best Books on Roman History. I also highly recommend the You're Wrong About podcast, for some general and esoteric learning. (That poor McDonald's coffee lady!)